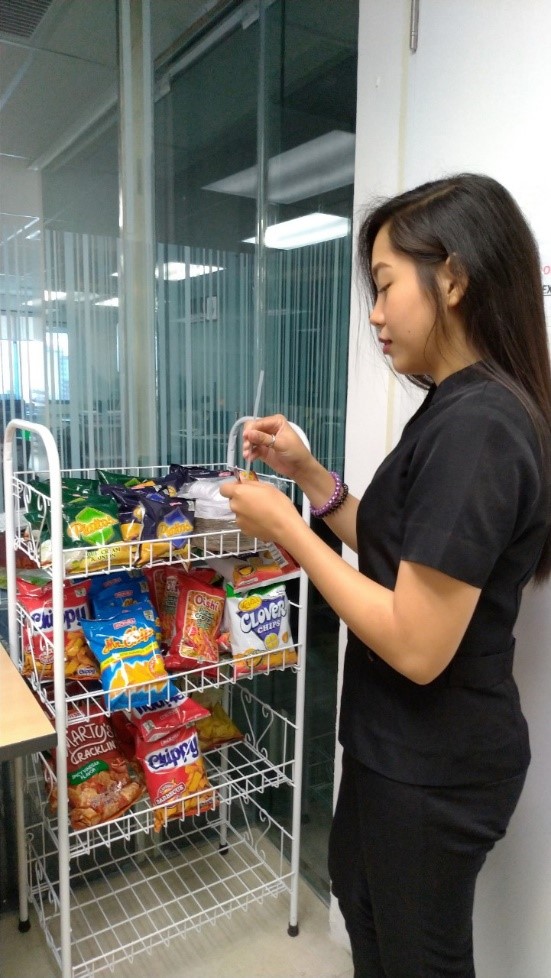 "Honesty is the best policy" -- an old saying that has a straightforward literal meaning, which encourages the populace to tell the truth and avoid lying. In Sunwest, it is one of the main values that the company upholds. The company aims to create an atmosphere of honesty that also fosters an environment for self-accountability and responsibility.
As Sunwest wants this value to be instilled inside the company, the Sunwest's Former Chairman and CEO Mr. Elizaldy S. Co suggested and the Management Committee decided to put up a store, not just any store, but an honesty store, to promote honesty and credibility around the office.
The store was put up on April 2019, and headed by one of the executive assistants, Mr. Eduardo Horacio Alvarez.
"Mr. Co decided to have a store in the office so that the employees will have a convenient place to buy food and drinks, not only it is convenient for the employees, it also makes them more efficient since they do not have to go outside the building and
In photo: A Sunwest employee checking the snacks available in the honesty store.line up at the store just to get some snacks," Mr. Alvarez said.
Of course, as an honesty store, it is not being closely monitored. The Management Committee believes that the honesty of the employees is the key for the success of this venture.
"There is a small drawer for the payment and change and a log sheet for the employee to fill out what they bought, quantity, and its value. The items in the honesty store menu are all affordable and in a variety, from chips to drinks like juices and instant coffee. In some occasion, the store offered steamed food such as siomai and hotdog, which the employees love that also comes with a cup of rice." Mr. Alvarez added.
Until now, the honesty store runs smoothly and all employees really find this venture very convenient. The idea of honesty store has been around for quite some time and has been a great practice of successful companies. Sunwest hopes that this will inspire employees to be reliable and generous.