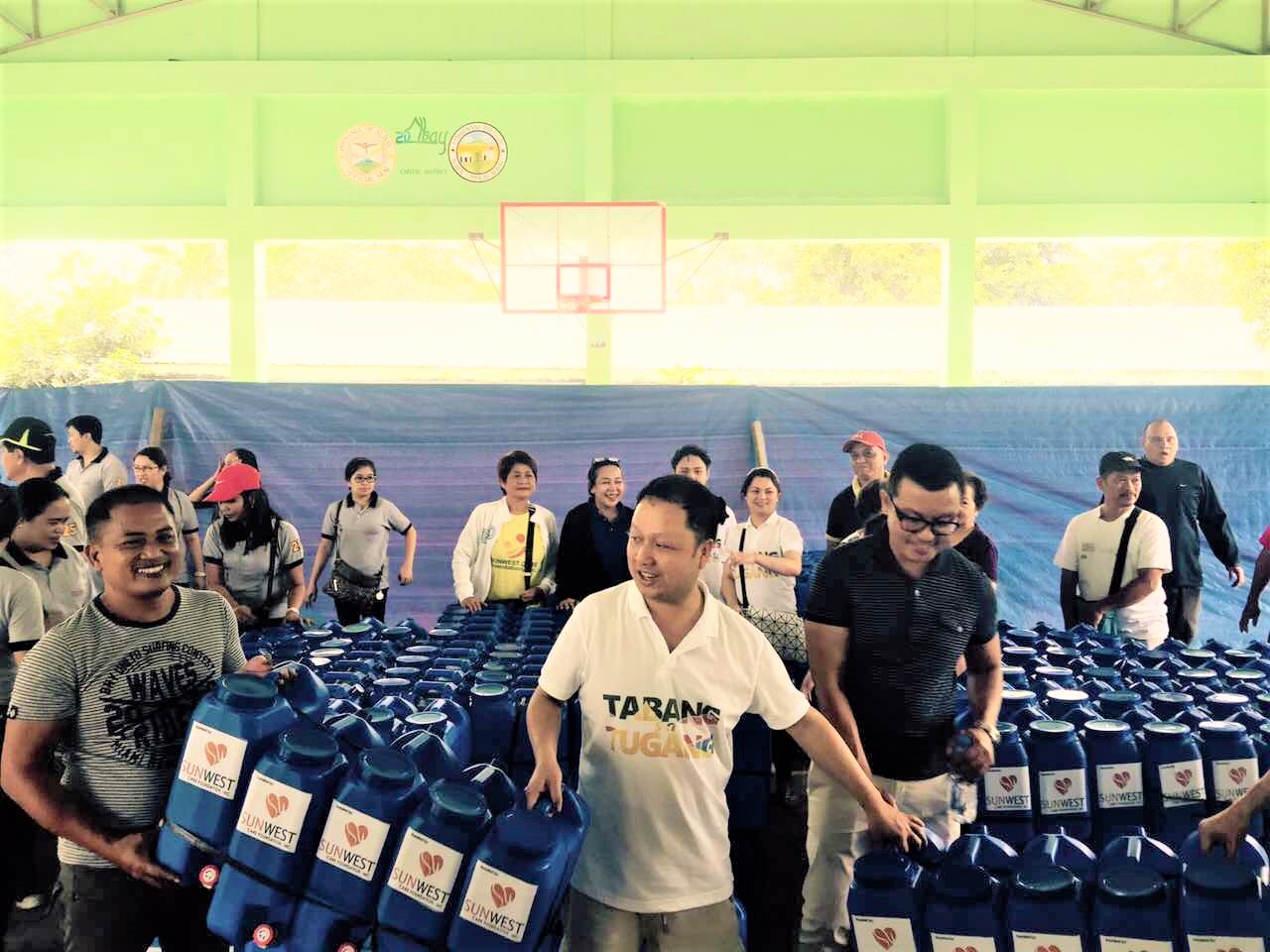 February 5, 2018/Legazpi City - Sunwest Group Holding Company, Inc. (SGHCI), together with its Corporate Social Responsibility Arm, Sunwest Care Foundation, Inc. (SCFI) extend a helping hand to thousands of displaced Albayanos due to the continuous wrath of the country's most active volcano, the Mayon Volcano.
Dubbed as "Tabang sa Tugang (Tulong sa Kapatid): A Sunwest Group Relief and Assistance Program", the activity started on the first day of the love month, February. Series of feeding programs and distribution of relief goods began in eight (8) adopted evacuation centers, which house thousands of evacuees, spread in two (2) cities and three (3) municipalities in the province.
The adopted evacuation centers of SGHCI are the following: (1) Bitano Elementary School in Mabinit, Legazpi City, (2) Buraguis Elementary School in Padang, Legazpi City, (3) Anislag Elementary Echool in Salvacion, Daraga, (4) Bascaran Elementary School in Alcala, Daraga, (5) Bascaran High School in Alcala, Daraga, (6) Ligao City National Technical Vocational School in Baligang, Ligao, City, (7) Guinobatan Elementary School in Maninila, Guinobatan, and (8) Bical Elementary School in Lidong, Sto. Domingo.
Each of the companies and affiliates of SGHCI also adopted an evacuation center, with worthwhile activities and programs conducted that emanate from the uniquely Filipino value of "malasakit".
On February 3, 2018, the family of Bicolano philanthropist, Elizaldy S. Co, Chairman of the Board and Chief Executive Officer of Sunwest Group Holding Company, Inc. (SGHCI) visited the above-mentioned evacuation centers, where they spearheaded the distribution of relief goods and the feeding program for thousands of Mayon evacuees.
"Sunwest Group Holding Company, Inc, together with its affiliates and through Sunwest Care Foundation, Inc., will continue our commitments of being an arm of service to the Albayanos and developments in the region," Co said in his message during the launching of Tabang sa Tugang.
In response, Legazpi City Mayor Noel Rosal in his speech during the said activity, thanked Mr. Co, Sunwest Group and other partners for their undying passion to serve the Bicolano, specifically the Albayanos.
"I thank Sunwest and everyone for their support that addressed the needs of the evacuees despite the threat of Mayon. They are blessed because many people support them and continue to give assistance. Magpangadyi asin magtubod. Sarabay ta ining malalampasan. (Magdasal at maniwala. Sama-sama natin itong malalampasan)," Rosal said, when he delivered welcome remarks during the launching activity.
In January 2018, Mr. Co of SGHCI announced that the company will provide free of charge the use of its prime property in Barangay Lamba, Legazpi City. The 41-hectare land can house an estimated 50,000 displaced residents. Apart from the use of the said property, the company also provided goods and materials for the temporary shelters. The said action was lauded and fully supported by various National and Local Government Offices.