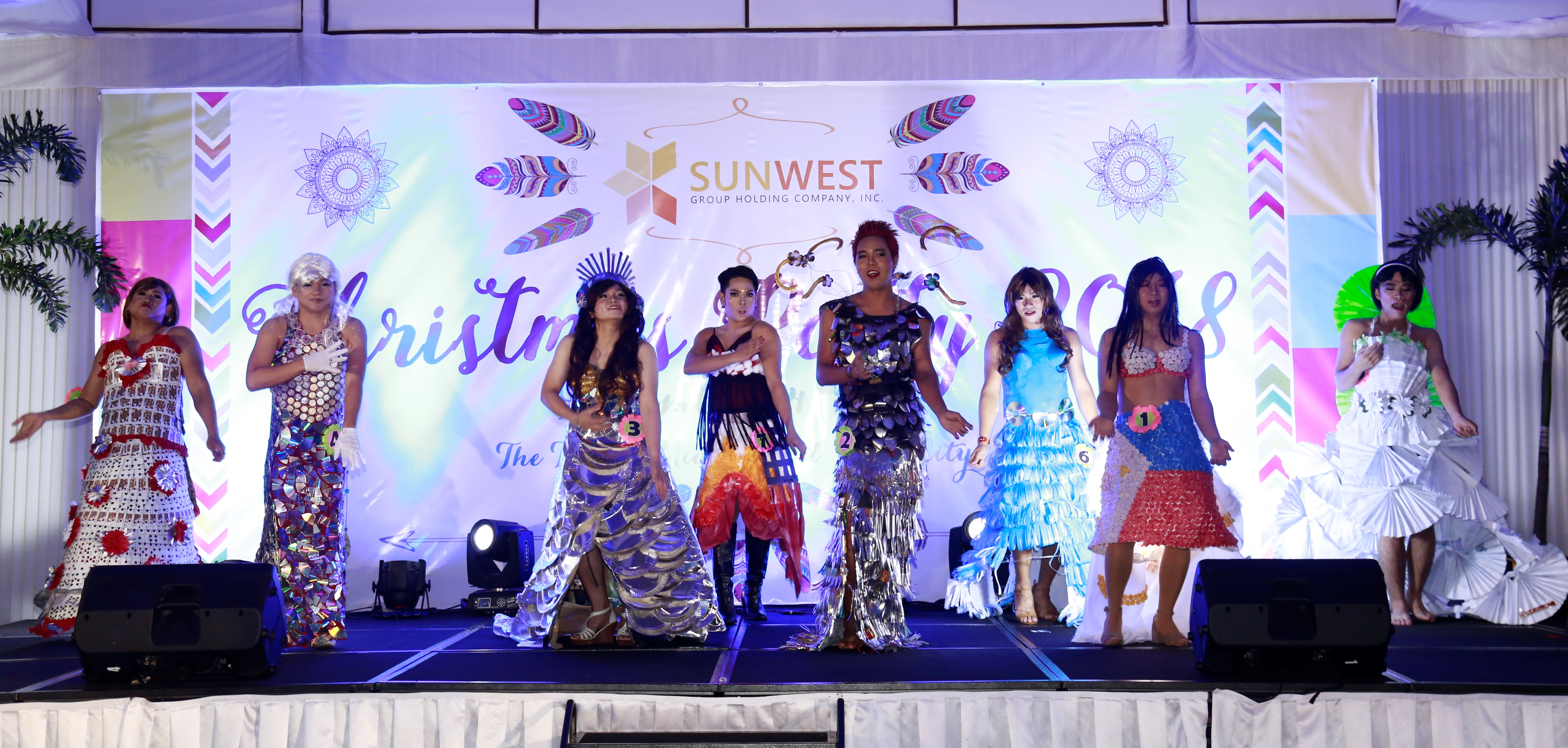 The Sunwest Group Holding Company, Inc. (SGHCI) has ended its year with a stylish and elegant Bohemian-themed Christmas Party at the Midas Hotel and Casino in Pasay City last December 14, 2018.
The program started with a Mass Ceremony followed by the welcome remarks of the emcees, Ms. Natalie Grace Go, a newly-hired employee of the Audit Department, and Mr. Garret Sol of Engineering Department.
Each employee represents themselves stylishly and grace their own-style outfit at the party. Some put in extra effort to their outfits as they wore colorful wigs to complement their get-up, while some went for the 'simple yet elegant' look. Look at the King and Queen of the Night that definitely stole the show.
If you thought beauty pageants were just for girls, think again.
While glitzy gowns, lip gloss and sparkling tiaras maybe some boys' worst nightmare but not with Sunwest Gentlemen employees. The highlight of this Bohemian-themed party was the Beauty Pageant with a twist. Nine representatives from different departments showcased their talent, challenged their level of wittiness, and strutted their glamorous "Save Mother Earth" recycled costumes on the runway as if they were competing for crowns in a girl's world. The winners were judged by the following criteria:
          • Audience Participation: 25%
          • Relevance: 50%
          • Confidence/Participation: 25%
           (Total: 100%)
The beauty pageant winners were:
          • Grand Winner: Marc Jethro Manipol, Legal Department
          • 1st Runner-up and Best in Talent: Benjie Dayo, COB Department
          • 2nd Runner-up: Melden Emata, Engineering Department
          • 3rd Runner-up and Best in Tagline: John Paul Legaspi, Accounting Department
          • 4th Runner-up: Zack Mattrigan Buni, Finance, Tax, and IT Department
          • Best in Gown: Jake Ryan Cantor, Misibis, Purchasing, and Business Development Department
SGHCI also awarded its employees who exhibited exemplary performance throughout the year.
          • CEO Award: Mr. Nonoy Zuñiga
          • Supervisor/Manager of the Year: Engr. Joselito V. Azul
          • Employee of the Year: Mr. Amador De Vera
                                                Ms. Rose Ann Nuñez
          • Rookie of the Year: Mr. Mark Tierra
          • Maagap Award: Ms. Annie Botin
          • Congeniality Award: Ms. Rhizelle Mendoza
                                             Mr. Rhonlee Neri
          • King of the Night: Mr. Phillip Borasca
          • Queen of the Night: Ms. Camille Toralba
Mr. Elizaldy S. Co, the Chief Executive Officer (CEO) of Sunwest Group Holding Company, Inc. also celebrated his birthday during the company Christmas Party. As a surprise gift from all employees, Mr. Co receives a special large framed photo of his family.
Steven Paysu, Tawag ng Tanghalan Grand Finalist, also performed a special number for the birthday celebrator.
The Co family expressed their gratitude to the hard work their employees have shown throughout the year. They have witnessed each employee grow.
Since it's the season of giving, SGHCI raffled over hundreds of appliances and cash prizes to its employees. Some of the appliances given away were a microwave oven, desk fan, stand fan, induction cooker, gas stove, JBL earphones, washing machine, rice cooker, TV, etc.
Everyone had a lot of fun and great time during and even after the party. The band, RPEE, made everyone dance to their feet and washed away all their worries for the night. Sunwest Group Holding Company, Inc. sure knows how to throw a party!